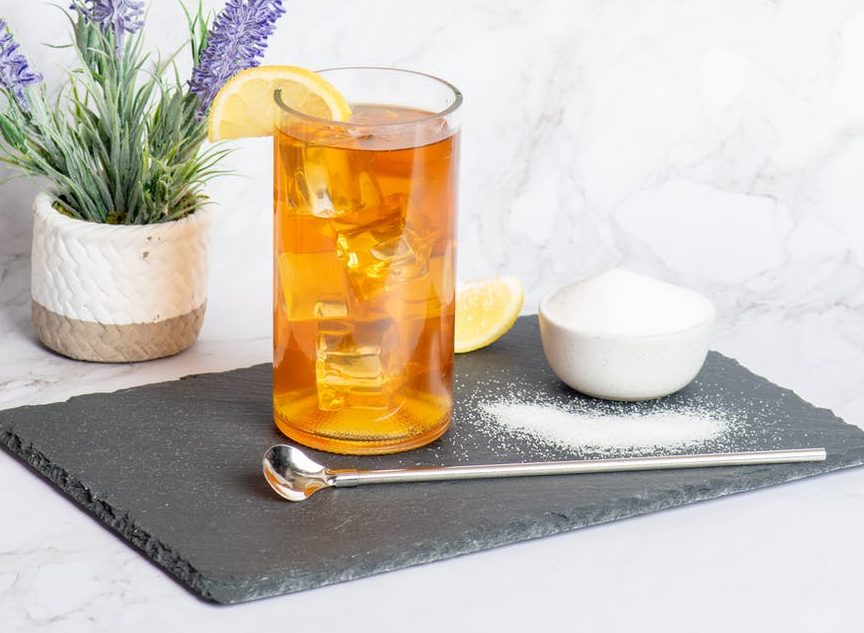 By Charlotte Foster BSc (Hons), MSc, RD.
With the desire to live a "sugar-free" existence becoming more popular, the food industry has responded with a boom in sales of sweeteners (with the sweetener sector now valued at ~£60million) (1).
Sweeteners can be derived from natural sources and so are deemed to be "natural" as well as being synthetically created and labelled as "artificial". Both give the same sweetness to food that sugar does but with substantially less calories.
With over one quarter of British households buying in sweeteners, DINE has decided to look take a closer look into these sweet-tasting products.
Useful Links:
References
(1): Chatsudthipong, V. and Muanprasat, C. (2009) Stevioside and related compounds: Therapeutic benefits beyond sweetness. Pharmacology & Therapeutics 121 (1); 41-54.
(2): Chan, P., Tomlinson, B., Chen Y., Liu, J., Hsieh, M and Cheng, J. (2000) A double-blind placebo-controlled study of the effectiveness and tolerability of oral stevioside in human hypertension. British Journal of Clinical Pharmacology 50 (3):215-220.
(3): Hsieh, M., Chan, P.,Sue, Y., Liu, J., Liang, T., Huang, T., Tomlinson, B., Chow, M., Kao,P. and Chen, Y. (2003) Efficacy and tolerability of oral stevioside in patients with mild essential hypertension: A two-year, randomized, placebo-controlled study. Clinical Therapeutics 25 (11); 2797-2808.
(4): Greggersen, S., Jeppesen, P., Holst, J., Hermansen, K. (2004) Antihyperglycemic effects of stevioside in type 2 diabetic subjects. Metabolism 53. (1); 73-76.
(5): Geeraert, B., Crombe,F., Hulsmans, M., Benhabiles, N., Geuns, J.M. and Holvoet, P. (2010) Stevioside inhibits atherosclerosis by improving insulin signaling and antioxidant defense in obese insulin-resistant mice. International Journal of Obesity 34 (3); 569-577.
(6): Roberts, M.W. and Wright, T.J. (2012) Nonnutritive, Low Caloric Substitutes for Food Sugars: Clinical Implications for Addressing the Incidence of Dental Caries and Overweight/Obesity. International Journal of Dentistry 2012; 625701.
(7): Noda, K., Nakayama, K. and Oku, T. (1994) Serum glucose and insulin levels and erythritol balance after oral administration of erythritol in healthy subjects.European Journal of Clinical Nutrition 48(4); 286-292.
(8): Honkala, S., Runnel, R., Saag, M., Olak, J., Nommela, R., Russak, S., Makinen, P.L., Vahlberg, T., Falony, G., Makinen, K. and Honkala, E. (2014) Effect of erythritol and xylitol on dental caries prevention in children. Caries research 48 (5); 482-490.
(9):Arrigoni, E., Bronus, F. and Amado, R. (2005) Human gut microbiota does not ferment erythritol, British Journal of Nutrition 94(5); 643-646.
(11): EFSA (2011) Scientific Opinion on the substantiation of health claims related to the sugar replacers xylitol, sorbitol, mannitol, maltitol, lactitol, isomalt, erythritol, D-tagatose, isomaltulose, sucralose and polydextrose and maintenance of tooth mineralisation by decreasing tooth demineralisation (ID 463, 464, 563, 618, 647, 1182, 1591, 2907, 2921, 4300), and reduction of post-prandial glycaemic responses (ID 617, 619, 669, 1590, 1762, 2903, 2908, 2920) pursuant to Article 13(1) of Regulation (EC) No 1924/2006. EFSA Journal 9(4); 2076. Available at http://www.efsa.europa.eu/sites/default/files/scientific_output/files/main_documents/2076.pdf [last accessed 25/03/16].
(14): Gupta, A.K. and Kaur, N. (2000) Carbohydrate Reserves in Plants – Synthesis and Regulation, Elsevire 2000.
(16): Soffrirri, M., Belpoggi, F., Degli Esposti, D., Lambertini, L., Tibaldi, E. and Rigano, A. (2006) First experimental demonstration of the multipotential carcinogenic effects of aspartame administered in the feed to Sprague-Dawley rats. Environmental Health Perspectives 114 (3); 379-385.
(17): Soffrirri, M., Belpoggi, F., Tibaldi, E., Esposti, DD., Lauriola, M. (2007) See comment in PubMed Commons belowLife-span exposure to low doses of aspartame beginning during prenatal life increases cancer effects in rats. Environmental Health Perspectives 115 (9); 1293-1297.
(18): EFSA Panel on Food Additives and Nutrient Sources added to Food (2013) Scientific Opinion on the re-evaluation of aspartame (E 951) as a food additive. EFSA Journal 11(12); 3496.
(23): Patel, R.M., Sarma, R. and Grimsley, E. (2006) Popular sweetner sucralose as a migraine trigger. Headache 46 (8); 1303-1304.