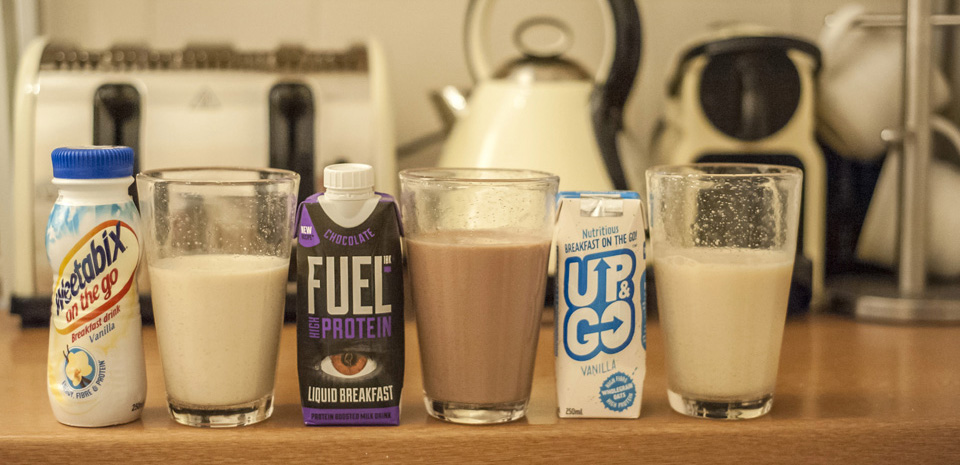 Breakfast in a Bottle – Friend or Foe?
By Niamh O' Sullivan BSc (Hons), MSc, RD .
Breakfast choices have hit the headlines with concerns surrounding the sugar contents of popular breakfast cereals and what children are choosing to eat as their first meal of the day.
In the last 10 years the breakfast market has been transformed from the traditional cereals served in a bowl eaten at the table into a handy, easy-to-grab packaged option eaten on-the-go. We have seen the rise of the breakfast biscuit and more recently the emergence of breakfast drinks. We all know time and money are precious commodities, but can we really afford to condense our breakfast?
We wanted to look at the breakfast drink market to evaluate some of the current products available and to see if there is any benefit in having a liquid breakfast.
But firstly, let's ask a basic question…what are the benefits of eating breakfast?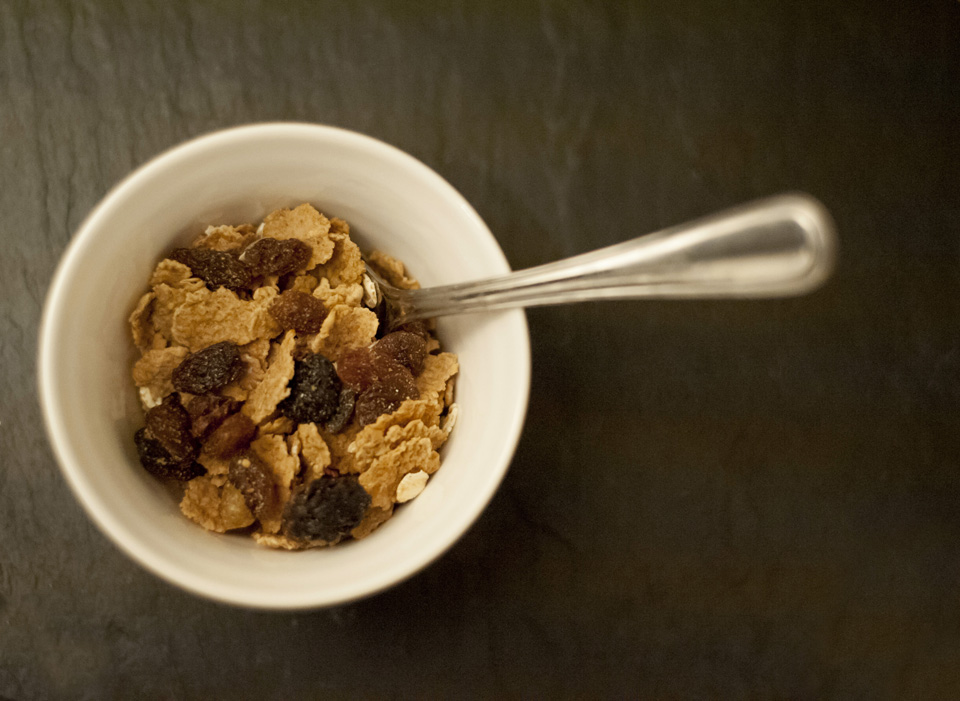 Why bother with breakfast?
Breakfast is commonly labelled as "the most important meal of the day", and although all meals are important, there is some evidence to suggest eating breakfast incurs nutritional benefits.
Up until recently dietary guidelines recommending the consumption of breakfast has been based largely on cross-sectional observational studies involving self-reported dietary intake (1,2). When looking at these studies, it is clear that breakfast brings positive impacts on our health, and has shown that those likely to skip breakfast are at an increased risk of adiposity (fat mass), diabetes and cardiovascular disease (3-7).
There has also been interesting research looking into the specific effects that eating breakfast regularly has on our health in lean and obese adults (8,9). Eating breakfast has shown to have positive effects on insulin sensitivity and blood sugar control and increased physical activity levels (8,9). In obese adults, those who skipped breakfast were more likely to compensate by eating more food later in the day (9), with other research revealing that breakfast skippers are more likely to crave high calorie foods (10).
So it's fair to say, breakfast is important! The evidence suggests that there are far more pros to kick starting the morning with a healthy breakfast to see us through the day ahead.
So what should breakfast provide?
When we think of what our first meal of the day should provide, we want it to be nutritious and satisfying (in terms of taste and creating a comfortable feeling of fullness). A healthy breakfast needs to provide our bodies with much needed energy and protein as well as vitamins and minerals such as the B vitamins, calcium, folate and iron.
For more information about healthy breakfast ideas click here.
Breakfast drinks – are they a morning meal contender?
We wanted to cast a critical eye at three of the most popular breakfast drinks available on the market (Weetabix ; Up & Go and Fuel 10K)  to see whether they really can provide a suitable candidate for a nutritious breakfast option?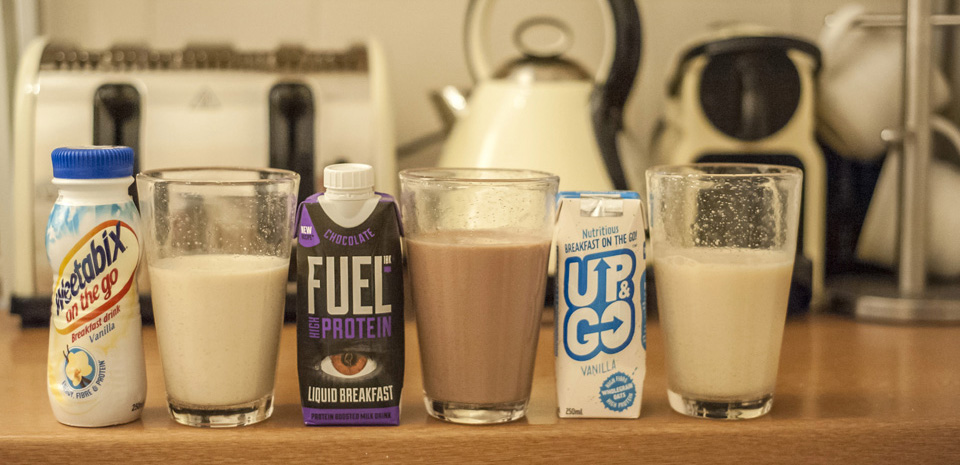 The Results…

Both Weetabix "On the Go" and Up & Go come in a volume of 250mls whilst Fuel 10k has a larger total volume of 330mls.
Weetabix "On the Go" contained the most calories per 100ml (85kcal ) and per total product ( 213kcal in 250ml).
Fuel 10k contained substantially less calories per 100ml, but due to coming in a bigger volume contained the second most calories per total product (330ml).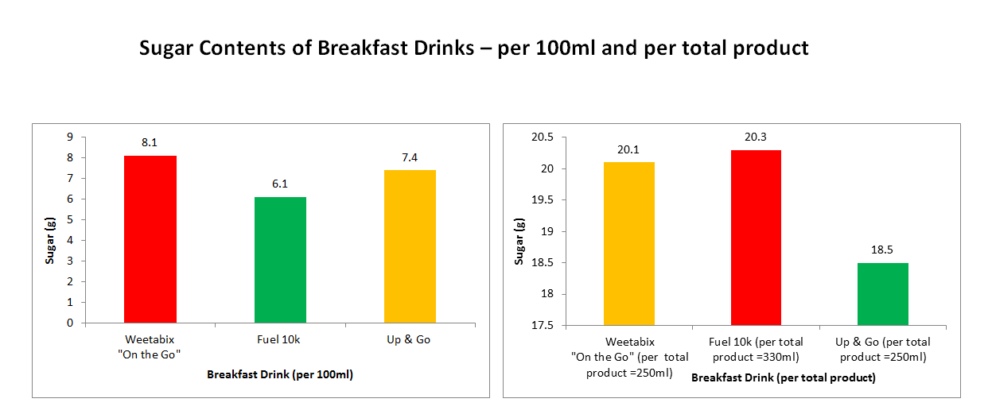 The recommended daily intake of sugar per day for an adult is approximately 30g .
All the breakfast drinks analysed  were exceptionally high in sugar, with Weetabix "On the Go" containing a staggering 20.1g sugar per total product.
Up & Go contained the least amount of sugar per product (18.5g).
Foods containing more than 5g saturated fat per 100g are deemed to be "high" in saturated fat. Whilst foods with 1.5g of saturates or less per 100g or 0.75g per 100ml are deemed to be "low" in saturated fat.
Weetabix "On the Go" contained 15x more saturated fat compared with the other breakfast drinks per total product, whilst Fuel 10k and Up & Go can be categorised as low in saturated fat in line with dietary recommendations.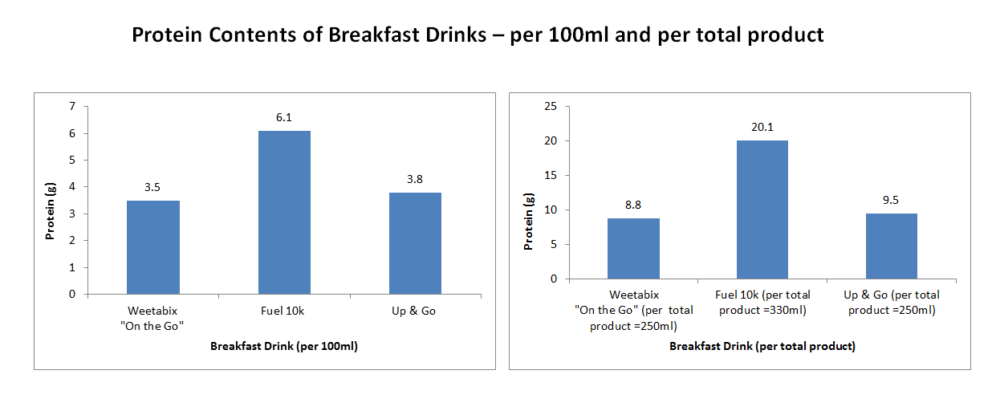 100ml semi-skimmed milk contains approximately 3.5-4 g protein.
Fuel 10k was substantially higher in protein both per 100ml and per total product compared with the other breakfast drinks. Fuel 10k had nearly double the protein content of 100ml semi-skimmed milk.
Weetabix "On the Go" contained the least amount of protein per 100g and per total product.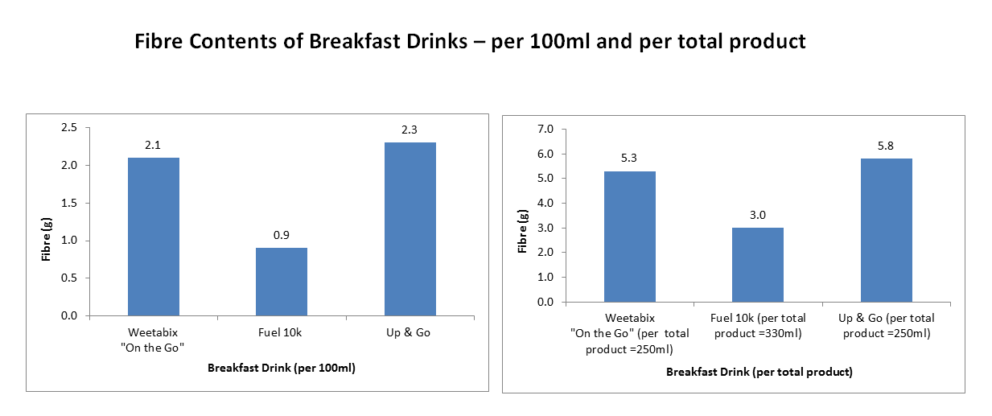 It is recommended we try to have 30g fibre everyday for good health.   A portion of 2 weetabix (as in the breakfast cereal) provides approximately 3.8g fibre.
Both Up & Go and Weetabix "On the Go" contained higher amounts of fibre per total product (>5.5g) compared with the high protein drink Fuel 10k.
Our verdict!
It is hard to identify one of the drinks as the "winner" in this analysis. Each of the breakfast drinks we analysed all had different superior nutritional features e.g. for high intakes of protein Fuel 10k was the best product, whilst for fibre, both Up & Go and Weetabix "On the Go" would be better choices.
When you break it down, and look at what the breakfast drinks contain compared with a bowl of cereal with milk, it can be difficult to justify them as a superior option. All the breakfast drinks we analysed were very high in sugar, arguably no better than many breakfast cereals which have been under scrutiny.
Current labelling makes it hard to work out just how much of the total sugar come from free sugars opposed to naturally occurring milk sugars, but this can somewhat be deciphered from the order of ingredients listed on the products. For example, Up & Go lists "sugar" and "fructose" as the fourth and fifth ingredient, leading to the assumption they contribute to a large proportion of the overall sugar content.
It appears that Up & Go have reformulated their product since they originally first launched the product in the UK, by adding in extra fibre and protein and reducing the saturated fat and sugar contents as well as boosting the vitamin and mineral content.
Also, there is not much high quality research evaluating the question of whether drinking our breakfast in a liquid form is better than having it in a solid form. Evidence has shown that solid foods appear to be more satiating than liquids (13-20). This is attributed to the physiological processes of chewing and the fact that solid foods are digested more slowly. Solid foods seems to slow down gastric emptying (rate at which food leaves the stomach) compared with liquids, leading us to feel fuller for longer.
Whilst breakfast drinks do provide a convenient option for those struggling to make time for breakfast, this convenience comes at a cost! On average each of the breakfast drinks were found to cost ~£1.50 per unit, but other brands can be as costly as £4+ per unit.
But what we do know is that having breakfast is better than not having breakfast. The food industry and restaurants are constantly developing and offering equally convenient breakfast options, many of which are more nutritious and the same or a cheaper price than that of a breakfast drink!
References
Casazza K, Fontaine KR, Astrup A, Birch LL, Brown AW, Bohan Brown MM, Durant N, Dutton G, Foster EM, Heymsfield SB, et al. Myths, presumptions, and facts about obesity. N Engl J Med 2013;368: 446–54.
Brown AW, Bohan Brown MM, Allison DB. Belief beyond the evidence: using the proposed effect of breakfast on obesity to show 2 practices that distort scientific evidence. Am J Clin Nutr 2013;98: 1298–08.
Fabry P, Hejl Z, Fodor J, Braun T, Zvolankova K. The frequency of meals. Its relation to overweight, hypercholesterolaemia, and decreased glucose-tolerance. Lancet 1964;2:614–5.
Barton BA, Eldridge AL, Thompson D, Affenito SG, Striegel-Moore RH, Franko DL, Albertson AM, Crockett SJ. The relationship of breakfast and cereal consumption to nutrient intake and body mass index: the National Heart, Lung, and Blood Institute Growth and Health Study. J Am Diet Assoc 2005;105:1383–9.
Kant AK, Schatzkin A, Graubard BI, Ballard-Barbash R. Frequency of eating occasions and weight change in the NHANES I Epidemiologic Follow-up Study. Int J Obes Relat Metab Disord 1995;19:468– 74.
Smith KJ, Gall SL, McNaughton SA, Blizzard L, Dwyer T, Venn AJ. Skipping breakfast: longitudinal associations with cardiometabolic risk factors in the Childhood Determinants of Adult Health Study. Am J Clin Nutr 2010;92:1316–25.
Cahill LE, Chiuve SE, Mekary RA, Jensen MK, Flint AJ, Hu FB, Rimm EB. Prospective study of breakfast eating and incident coronary heart disease in a cohort of male US health professionals. Circulation 2013;128:337–43.
Betts JA, Richardson JD, Chowdhury EA, Holman GD, Tsintzas K, Thompson D. The causal role of breakfast in energy balance and health: a randomized controlled trial in lean adults. Am J Clin Nutr 2014;100:539–47.
Enhad A Chowdhury, Judith D Richardson, Geoffrey D Holman, Kostas Tsintzas, Dylan Thompson, James A Betts. The causal role of breakfast in energy balance and health: a randomized controlled trial in obese adults. Am J Clin Nutr. 2016; 103(3): 747–756.
Goldstone AP1, Prechtl de Hernandez CG, Beaver JD, Muhammed K, Croese C, Bell G, Durighel G, Hughes E, Waldman AD, Frost G, Bell JD. Fasting biases brain reward systems towards high-calorie foods. Eur J Neurosci.2009;30(8):1625-35
European Commission. Regulation (EC) No 1924/2006 of the European Parliament and of the Council of 20 December 2006 on nutrition and health claims made on foods.Available at: http://ec.europa.eu/food/safety/labelling_nutrition/claims/nutrition_claims_en (accessed 25 October 2016).
SACN(Scientific Advisory Committee on Nutrition). Carbohydrates and Health Report2015. Available at:https://www.gov.uk/government/publications/sacn-carbohydrates-and-health-report(accessed 23 October 2016).
Mattes RD, Campbell WW. Effects of food form and timing of ingestion on appetite and energy intake in lean young adults and in young adults with obesity. J Am Diet Assoc. 2009;109(3):430-437.
Cassady BA, Considine RV, Mattes RD. Beverage consumption, appetite, and energy intake: What did you expect? Am J Clin Nutr. 2012;95(3):587-593.
Zhu Y, Hsu WH, Hollis JH. The impact of food viscosity on eating rate, subjective appetite, glycemic response and gastric emptying rate. PLoS ONE. 2013;8(6):1-6.
Leidy HJ, Apolzan JW, Mattes RD, Campbell WW. Food form and portion size affect postprandial appetite sensations and hormonal responses in healthy, nonobese, older adults. Obesity (Silver Spring). 2010;18(2):293-299.
Houchins JA, Tan S, Campbell WW, Mattes RD. Effects of fruit and vegetable, consumed in solid vs beverage forms, on acute and chronic appetitive responses in lean and obese adults. Int J Obes (Lond). 2013;37(8):1109-1115.
Hogenkamp PS, Mars M, Stafleu A, de Graaf C. Repeated consumption of a large volume of liquid and semi-solid foods increases ad libitum intake, but does not change expected satiety. Appetite. 2012;59(2):419-424.
Hogenkamp PS, Stafleu A, Mars M, de Graaf C. Learning about the energy density of liquid and semi-solid foods. Int J Obes. 2012;36(9):1229-1235.
Zhu Y, Hsu WH, Hollis JH. The effect of food form on satiety. Int J Food Sci Nutr. 2013;64(4):385-391.